Two Dora Awards for
Soupe du jour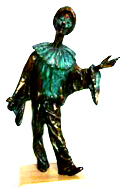 Thank you Dora Mavor Moore!
2012 Dora Mavor Moore Awards
Dance Division

Fila 13's participation with Soupe du Jour in the 2011 edition of Toronto's festival dance: made in canada has brought the company many rewarding experiences. It is with great appreciation that Fila 13 has received the news of the 2012 Dora Mavor Moore Awards in the following categories:


• Lina Cruz, award for Outstanding Choreography
• Philippe Noireaut, award for Outstanding Sound Design/Composition

The ceremony was held in Toronto on June 25, 2012
to see list of nominees and recipients: click

Congratulations to all other nominees and recipients!!!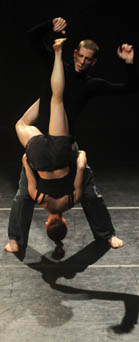 Photo: Soupe du jour
Choreographer: Lina Cruz
Dancers on photo: Catherine Larocque and Loîc Stafford
Music: Philippe Noireaut
© Andrés de Gabriel

Along the years, Lina Cruz and Philippe Noireaut have been grateful to be part of different projects in Toronto like Series 8:08, other events curated by Norma Araiza, Jim Montgomery and the Music Gallery and Older & Reckless, curated by Claudia Moore. Being part of dance: made in canada in 2011 was truly exciting for Fila 13 as was for Lina Cruz and Philippe Noireaut to create for Toronto Dance Theatre's Four at the Winch Quebec, earlier this year. Fila 13, Lina Cruz and Philippe Noireaut thank these precious opportunities and salute the Toronto dance community which is so creatively and diligently managed by its talented members.
Many thanks to the Dora Awards committee, the Toronto Alliance for the Performing Arts, Yvonne Ng and Princess Productions and to the performance team of Soupe du Jour, as presented in dance: made in canada: Elinor Fueter, Catherine Larocque, Loïc Stafford, Soula Trougakos, William Yong, Philippe Noireaut and Bernard Slobodian.

Fila 13 Productions thanks Le Conseil des arts et des lettres du Québec, the Canada Council for the Arts, Le Conseil des arts de Montréal for the the financial support for the creation, production and the touring of Soupe du jour.

And special thanks to Fila 13's Circle of Friends!