Dora Award 2017 attributed to Lina Cruz for Ylem (3 Eggs Ago)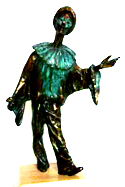 Thank you Dora Mavor Moore!
2017 Dora Mavor Moore Awards
Dance Division

Ylem (3 Eggs Ago) was created by Lina Cruz for Throwdown Collective, coproduced by Fila 13 and Throwdown Collective and premiered in Toronto by DanceWorks at Harbourfront Centre Theatre in February 2017. It is with great appreciation that Fila 13 has received the news of the 2017 Dora Mavor Moore Award For Ylem (3 Eggs Ago) in the following category:
• Outstanding Original Choreography: Lina Cruz

The work also received the following nominations:

• Outstanding Sound Design/Composition: Philippe Noireaut
• Outstanding Performance by an Ensemble : Throwdown Collective (Zhenya Cernaecov, Mairéad Filgate, Brodie Stevenson)

Congratulations to all other nominees and recipients!!!

The Dora Awards ceremony was held in Toronto on June 26, 2017
To see list of nominees and recipients: click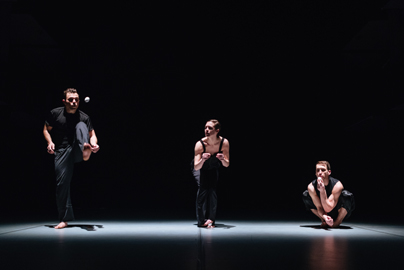 Lina Cruz and Philippe Noireaut are grateful to have been part of different projects in Toronto along the years, such as: creating for Toronto Dance Theatre's Four at the Winch Quebec in 2012, collaborating with Older & Reckless and Cloud 9 (Claudia Moore/MoonHorse Dance Theatre), participating in the 2011 and 2015 editions of dance: made in canada, as well as collaborating in diverse projects with Tanya Crowder/HOWDARESHE Productions, Series 8:08, Norma Araiza/Vanguardia Projects and Jim Montgomery/Music Gallery. Fila 13, Lina Cruz and Philippe Noireaut are thankful for these precious opportunities and warmly salute the Toronto dance community.




Ylem (3 Eggs Ago). Choreographer: Lina Cruz
Dancers: Zhenya Cernaecov, Mairéad Filgate and Brodie Stevenson (Throwdown Collective).
Photo: Edwin L.

Many thanks to the Dora Awards committee, the Toronto Alliance for the Performing Arts, Mimi Beck, DanceWorks, Harbourfront Centre Theatre. Arun Srinivasan and to Throwdown Collective for their support, interest and wonderful performance of Ylem (3 Eggs Ago).


Fila 13 Productions thanks the Canada Council for the Arts for the financial support which made possible the creation and production of Ylem (3 Eggs Ago) in Toronto and Le Conseil des arts et des lettres du Québec and Le Conseil des arts de Montréal for the production in Montreal at Agora de la danse.

And special thanks to Fila 13's Circle of Friends!