Lina Cruz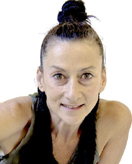 "Stylized to the minimum gesture", Montreal choreographer Lina Cruz explores imaginative choreographies and a detailed body language. A second place award winner in the 1998 choreographic competition of the St-Sauveur Arts Festival (Quebec), Cruz conveys a surreal landscape in which her intriguing codes of expression and movement quality design on stage an appealing fusion of styles. Her dance is eloquent, constantly rhyming awkwardness with playfulness and characterized by an intricate articulation of the body, traveling sharply and fluidly through the body parts. With a background in classical ballet as much as in modern and contemporary styles, Cruz also takes interest in martial arts and various forms of stage expression. What she delivers is a versatile and theatrical dance, creating works with a very personal signature, considered different, inventive and always evolving on the margins of mainstream dance.
After 15 years as an independent choreographer, Lina Cruz founded the company Fila 13 Productions in 2003. Its mission statement is to support the artistic vision of the choreographer and the creation and production of dance and/or music performances. Lina Cruz explores the integration of musicians on stage and of music/voice to movement. She thus creates the works of the company.

DORA AWARDS
Fila 13's specific artistic approach has been warmly celebrated in Toronto on several occasions, receiving the prestigious Dora Mavor Moore Award and nominations in various categories:

- Lina Cruz, award for Outstanding Choreography in 2012 for Soupe du jour
- Philippe Noireaut, award for Outstanding Sound Design/Composition in 2012 for Soupe du jour
- Lina Cruz, award for Outstanding Choreography in 2017 for Ylem (3 Eggs Ago)
- Fabien Piché, award for Outstanding Performance in 2016 for Waiting for a Sleepless Night
- Lina Cruz, nomination for Outstanding Choreography in 2016 for Waiting for a Sleepless Night
- Throwdown Collective, nomination for Outstanding Performance in 2017 for Ylem (3 Eggs Ago) - Philippe Noireaut, nomination for Outstanding Sound Design/Composition in 2017 for Ylem (3 Eggs Ago)

Over the years, Lina Cruz has collaborated with diverse artistically enriching projects. Independent artists across Canada as well as companies and institutions, such as, Toronto Dance Theatre, the Banff Centre for the Arts, Chants Libres (contemporary opera company), L'Atelier lyrique de l'Opéra de Montréal, Moonhorse Dance Theatre, L'École de danse contemporaine de Montréal and l'École de danse de Québec, have sought out her services as choreographer and teacher. Cruz often embarks as well in theatre and visual arts projects. On the other hand, beyond the premises of Fila 13, Lina Cruz and musician Philippe Noireaut, as a collective, create more intimate works, performed by themselves, and have also established stimulating collaborations with a great diversity of artists.

Originally from Colombia, Cruz has been in the dance milieu since 1973. Her career as a dancer took off and developed mainly in Spain, with short but important periods spent in other European countries and in the United States. Cruz joined the Montreal eclectic dance scene in 1989, where she continues her research, receiving grants from Le Conseil des arts et des lettres du Québec, the Canada Council for the Arts and Le Conseil des arts de Montréal for the creation of several of her works. Her work has been presented nationally and internationally.