Morphs (2021)
Length: 55 minutes
Choreography: Lina Cruz
Dancers : Elinor Fueter, Abe Mijnheer, Geneviève Robitaille, Alexandra St-Pierre, Antoine Turmine
Music and performance on stage : Philippe Noireaut
Costumes, props, stage set: Lina Cruz and Cheryl Lalonde
Rehearsal assistant: Danielle Davidson
Lighting design : Thomas Godefroid
Sound : Eric Vincent
Photo (centre) : Vanessa Fortin
Photo (below) : John Lauener

Residencies:
Agora de la danse
Maison de la Culture Notre-Dame-de-Grâce (Monkland)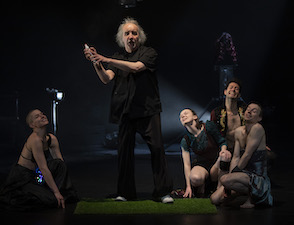 Playful mockers, Morphs are dreamweavers, fairy-tale chefs in their mischievous cuisine. These enigmatic and evasive creatures are tireless and compulsive laborers of imagination, engineers of the black box of illusion. Their multiple games are filled with humour as much as a delicate touch of the more disturbing aspects of life, their intentions always undoubtedly charged with tenderness and an immense caring love…
Coproduction: Fila 13 and Agora de la danse
Premiered at Agora de la danse in October 2021
What has been said about Morphs
(translated excerpts of reviews):

"(...) And bottomline, we forget the minutes that pass, the time of a dream that never ceases to surprise. A dream I highly recommend."

Thomas Bastien, patwhite.com, October 29 2021

"(...) The unconscious, joyfully unveiled, is carried with versatile sensibility. It is an insatiable spotlight focused on the most colorful and vigorous of imaginations."
Guylaine Massoutre, Spirale Magazine, October 29 2021

"(...) this work by Lina Cruz, imprinted with as much sensuality as humour, as much physical prowess as audacity, is a true gift for the senses. (...)."

Yanik Comeau, Zone Culture, November 17 2021



---
© 2022 Fila 13 Productions - All rights reserved - Tous droits réservés